In this part of the series, after we have successfully created a new work order, we should now be able to change the status of the work order.  I have modified my original jQuery Mobile app to include a new dialog for users to select a new status from a list.  The downside to this is that the list is a static list predefined in the mobile app.  Currently, with the REST API, there is no way to get a list of "available statuses", unless you modify the Maximo java code to include a custom method to get that list via web services.  That can certainly be done, but it's not within the scope of this tutorial.
Here is a screenshot of the dialog to select a new status for the work order.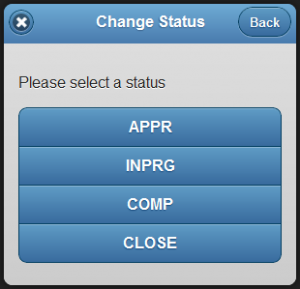 You need to be logged in to see this part of the post. Please
Login
here.