For most of the simple integrations in which we send out data from Maximo to external systems (SAP, Oracle…legacy…Custom Applications) we do not need to filter records as most common filtering can be achieved using the "Processing Rules" available on a publish channel.
In this example we will see how the out of the box MXWOInterface is used to export or publish the Work Orders to external systems using a custom Event Filter class.
This post is about the Event Filter Class on a Publish Channel in MIF. If you are aware of Publish Channels (Integration -> Publish Channels) in MIF you would have seen the field which says Event Filter Class.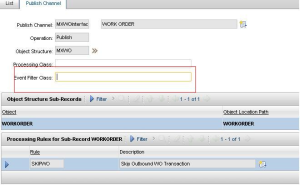 This post will unravel the mystery and usefulness of this class and what can be really achieved and when to use it.