Maximo has a powerful feature that can take the load off of both user and administrator. A common example of a request a Maximo administrator may get is, 'Is there anyway I can avoid typing in this list of 286 new inventory items into Maximo?'. In older versions of Maximo (e.g. 4.x and 5.x), an administrator would take the data and have to create complex SQL query scripts to insert and validate the data. The common result was 99.9% of the entries worked fine, but an administrator would then spend hours chasing down problems with one or two records.
Maximo now has a much more powerful way to do the same work, it's called the Maximo Integration Framework (MIF). Using the MIF, administrators can essentially create a template, called an Object Structure, that can be used repeatedly by users to load data through the Maximo Business Objects (MBO's) to validate the data and automatically manage critical data like record sequence numbers. Data will be loaded in a CSV file that can be created using a common spreadsheet application (e.g. Excel, Numbers, etc).
In this article the example data will be used to load Inventory records into Maximo using the MIF. It's assumed that your Maximo installation is ready to accept transactions via the MIF. If it's not, you can review information at Maximo Times MIF Series, IBM KB Doc 1385813, IBM KB Doc 1330565, or Maximo Middleware Manual Configuration for help on setting up your Maximo installation. The other assumption is that you have full access to the Integration applications in Maximo. A quick check to verify this is to log into Maximo and navigate to Go To -> Integrations and see a list of applications like this.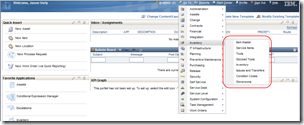 Loading data into Maximo via the MIF is similar to adding information via the UI, any required information used by the UI will need to be provided when loading data through the MIF. To load Inventory records the first step will be to enter Item Master records.  To do that, we'll need to setup the Object Structures first.